Glass Town USA is the natural expansion of "glass geek" exuberance. This is how it began: In between freelance jobs in art conservation, we bought a kiln. It was meant to be a hobby. No money left, but we craved more glass. Beautiful shiny glass! So many styles! Ripples, swirls of color, iridescent, DICHROIC!!! We were addicted. We ended up selling completed glass pieces to get more glass. Ahhh… all for the love of the glass.
The history of art glass goes back to ancient times. 4000+ year old glass pieces can be found in museums around the world. Modern technology has refined the glass medium bringing high-tech NASA grade glass into outer space. Of course the glass artists keep bringing it into the museums~!
At Glass Town USA we work with two main types of glass. Artisan quality stained glass and dichroic glass. Each of these can be broken down into sub-categories … and we love them all.  The owners of Glass Town USA have been making and selling handcrafted glass jewelry and accessories since 1995. In our glass studio, we start with large sheets of glass which we cut into smaller pieces, and we melt them in a kiln at approximately 1800° Fahrenheit.  This process is called "fused glass". Every part of our process is "by hand".
Our glass accessories and jewelry can be dressed up, or worn casually. To the gala, the beach, or the ball game. Stained glass is often seen in windows. At Glass Town USA, we think it is so incredible and enjoyable that it should be worn every day. We work with superb swirling colors, and also with simple solid colored glass. There is iridescent stained glass, opaque, and transparent stained glass. We try to buy stained glass in every shade of every color!
We love to work with the show stopping, high-tech Dichroic Glass. "Dichroic" means two colored, or multicolored. This metallic iridescent glass transmits light in one wavelength, and reflects light in two other wavelengths. It is common for dichroic glass to appear as several different colors simultaneously. Dichroic glass is coated with electronically excited metallic particles in a vacuum chamber, at elevated temperatures. A dichroic coating can be applied to different colored and textured glass for varied effects. Dichroic glass is bright, shiny, and truly dazzling.
We started making glass jewelry and accessories because we are crazy about glass!
And so it remains. We buy glass in bulk. Hundreds of sheets, hundreds of colors and styles. We share this love, our gorgeous glass pieces, with the world, and simultaneously feed our passion. Of course you will share in our love and enthusiasm. The prices are fair, and people buy several (and often a dozen!) at a time. When the barrette fits, buy them in every color! And we make all the sizes! So there ya go… These barrettes sell well.
Glass Town USA is based in southwest Florida a very short drive from the Gulf of Mexico. (This photo is from an afternoon kayak paddle from Placida to Little Gasparilla Island.)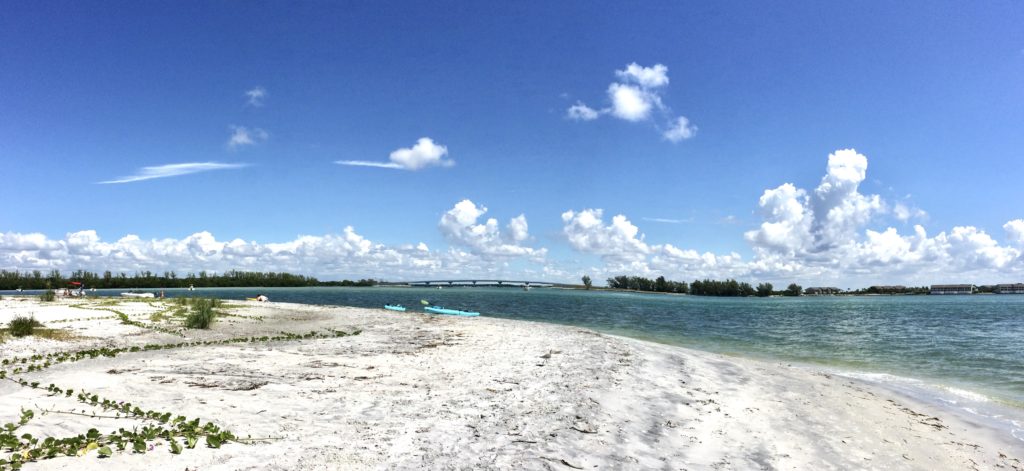 Charities: When you shop with us, you are also supporting our charity passions, and there are many. Because one of our founders is a returned Peace Corps Volunteer (serving in West Africa), we are aware of the drinking water problem in the Sub-Saharan region. Part of our proceeds goes to clean water action in Africa. We also have a heart for the parentless children in Mozambique. We contribute to help feed, clothe, and educate the youth in that region. Locally our passions and donations turn toward homeless animals, and artisans who have had disastrous emergencies (via cerf+, the artisans safety net). When you shop at Glass Town USA, you help us help these causes.
Thank you for visiting us ~!